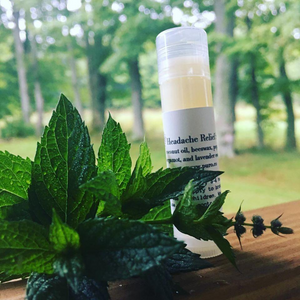 Headache Relief Salve
Regular price
$7.00
Sale price
$18.00
The Headache Relief Salve uses the benefits of aromatherapy to help naturally reduce headache symptoms. This salve combines peppermint, bergamot, and lavender essential oils in a base of coconut oil and beeswax. 

All the essential oils in this blend provide different benefits in headache relief. Peppermint oil has been shown to reduce the intensity of headaches. Lavender is used to calming the mind and induce restfulness. Bergamot can help reduce tension, stress, and anxiety. 

This combination is beneficial when you feel the start of a headache coming on or when you're feeling overwhelmed or stressed. It can be applied topically by placing a dap on the sinus area, temples, or the back of the neck. Alternatively, it may be inhaled directly from the tube. Use caution when applying to the face and avoid contact near the eyes. 
The travel-size Headache Relief Salve is packaged in a .15 oz tube for easy use and travel for purses or overnight bags.
The full-size Headache Relief Salve is packaged in a .5 oz tube.
Handmade fresh in small batches in the USA using natural and organic ingredients!
Ingredients: coconut oil, beeswax, lavender essential oil, bergamot essential oil, peppermint essential oil
Cruelty Free, Paraben Free, NO preservatives or artificial fragrance, SLS free
Summer temperatures may affect this product during shipping. If you live in an area with higher temperatures please take this into consideration before ordering. 
---
Share this Product
Seems to work!
I had a headache and used this. It wasn't greasy and I felt relief pretty quickly!
---
More from this collection