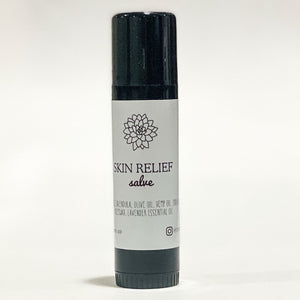 Skin Relief Salve
Regular price
$7.00
$8.00
Skin Relief Salve is handcrafted with calendula-infused oil. Calendula flowers have been shown to possess antiseptic, anti-inflammatory, antibacterial, and antifungal properties, along with many more.  All these beautiful properties make this a valuable salve to use with skin conditions, rashes, dry patches, and cracked dry skin. Finished with lavender essential oil to increase the anti-inflammatory and healing benefits and provide some analgesic relief. These unique properties make it a great addition to your natural first aid kit.
This can be used as an intensive moisturizer on scrapes, bug bites, or irritated skin. 
Skin Relief Salve uses organic coconut oil, calendula-infused olive oil, organic hemp oil, sunflower oil, unrefined shea butter, lavender essential oil, and beeswax.
Travel size comes in a small lip balm size tube. 
Calendula may cause an allergic reaction in people sensitive to the Asteraceae/Compositae family.
Handmade fresh in small batches in the USA using natural and organic ingredients! 
Cruelty Free, Paraben Free, NO preservatives or artificial fragrance, SLS free, Palm Oil Free
Warmer temperatures may affect this product during shipping. If you live in an area with higher temperatures please take this into consideration before ordering.  If the product becomes soft, it may be put into the refrigerator or a cool place to firm back up.

---
Share this Product
Skin Relief Salve
This is so appropriately named! I have tried this on mosquito bites, chigger bites, just itchy spots and it never fails to work! This is something that will always be in my stash!
Real relief
Soothes sore spots better than anything else i've tried
great product
My grandson started having itchy skin the day after i received this order. I had him put the salve on. He said it relieved his itching and was impressed. I love calendula so will definitely use it all!!!
An Amazing Salve
I really like how this salve come in a large lip balm like container. It makes it so much easier to apply without getting all over my hands. The salves goes on smooth and makes my skin feel nourished. It has an amazing smell that is not over powering but a bonus to the delightful salve. I really think that if you suffer from skin problems you should check out this salve. You will not want to use anything else.
Looking forward to using the salve
I haven't had to use the salve yet but I'm looking forward to doing so, well I don't want to have to use it but am glad to know if I need to I have it.
---
More from this collection