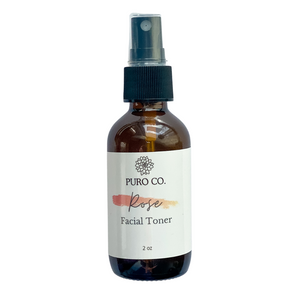 Organic Facial Toner
Regular price
$20.00
$0.00
Facial Toners are used to provide moisture and help balance the ph of the skin.  They leave the skin feeling brighter and refreshed. 
Apply after a cleanser and before a moisturizer. 
Developed by a Certified Clinical Aromatherapist.
2oz 
 organic hydrosol, witch hazel, essential oils and carrier oil
Available in Rose or Geranium 
Geranium is available in limited quantities, packaging will be different then the photo. 
---
Share this Product
My new go to toner
The rose toner was the missing element in my daily routine. Even with extremely dry skin, it works wonders, leaving my face softer than it has been in years!
pros & cons
It made my skin feel very nice and looked smooth in the morning (I applied it after washing my face before bed), but it has a funky smell. I was expecting roses, and it has an herbal smell that's not pleasant. I'm willing to put up with the odd smell since it seems to be great for my skin, but I probably would not recommend it.
Rose Toner Refreshment
Light and airy rose scent, as opposed to the traditional cloying heaviness of most florals. The Rose toner smells so wonderful it could be worn as perfume! Refreshing to the face, especially on a hot day when you need an afternoon pick-me-up.
Toner I can trust
Very nice product full of good for you ingredients. Does not have a "traditional" rose scent
Love this stuff
Really enjoyed the products I ordered, the charcoal face and body soap and facial toner are great so far and my husband is liking the after shave oil. He was a bit concerned when it came and saw that it was lavender, haha didn't think it would be very manly smelling like lavender but he has decided he likes it! Good prices and even though they were having some shipping delays I received it in a reasonable amount of time. I will order again.
---
More from this collection