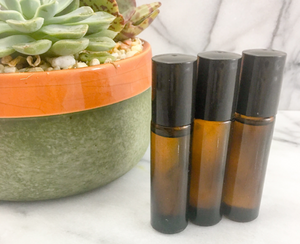 Repel Oil Roller 10ml
Regular price
$15.00
$0.00
Introducing Repel Oil Roller - an all-natural, non-toxic insect repellant made with a blend of essential oils, neem, and calendula oils. It is conveniently packaged in a 10 ml rollerball, making it easy to take with you on any outdoor activity such as hiking, camping, gardening, or kayaking. This listing is for one roller ball. For maximum protection, apply every 3 hours. 
The ingredients used in the Repel Oil Roller are neem oil, organic calendula infused olive oil, lemon eucalyptus essential oil, organic tea tree essential oil, rosemary essential oil, peppermint essential oil, lemongrass essential oil, geranium essential oil, citronella essential oil. This product is handmade in small batches in the USA using natural and organic ingredients. It is cruelty-free, paraben-free, has no preservatives or artificial fragrance, is SLS-free, and vegan.
Not for use on children. Store out of direct sunlight in a cool place. Shake before using.
What people are saying about this product?
"I used the roller last night at my sons soccer game. I wasn't swatting any bugs off me while the other parents were. It works wonderfully."
---
Share this Product
A great product
I am always looking for anything that will repel biting insects. Repel Oil Roller is easy to apply without a lot of mess. For me, it is very effective in preventing mosquito bites. I happen to be a mosquito magnet. I always have one of the vials in my pocket.
This is a great product. If anyone is trying to get away from using deet containing products, you should give this a try.
Can't wait...
I have a Nursery and I am a bee keeper...in Florida..!..So I will not need to use the product until the season comes in to start planting & potting the beautiful plants...that is when I need a product like I bought from you ...so I won't know how if performs until I need it.but want something ready for me when I need it.... around April..I'm always looking for plant based repellents as you have created...can't wait to use it...Thank you so much...!
---
More from this collection