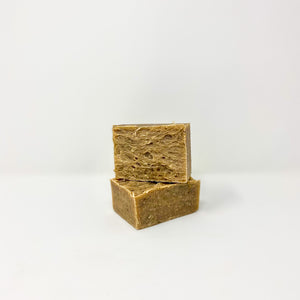 Yarrow + Shea Soap
Regular price
$13.00
$0.00
Yarrow + Shea Soap is our new unscented soap made with organic raw shea butter and infused with yarrow flowers and rose hips. 

It is an ultra-moisturizing soap great anyone who is sensitive to scents or with dry or sensitive skin.
About the ingredients: 
Yarrow (Achillea millefolium) is anti-inflammatory and has historically been used to aid in wound healing. Applied topically, it may be helpful with skin itching, rash, and other inflammatory skin conditions. 
Yarrow belongs to the Aster family, like ragweed and daisies, then you may be allergic to yarrow. 
Rose Hips are full of antioxidants and vitamins and considered healing to the skin improving tone and texture.  It is often used to brighten and tone the skin and when applied topically may help to reduce the appearance of scars. 
Shea Butter is a rich butter with an earthy aroma. It is often used for its moisturizing properties. It may also help to soothe irritation and reduce inflammation.

The base for this soap is made with high-quality plant-based oils including organic coconut oil, extra virgin olive oil, sunflower oil, castor oil, and raw organic shea butter. This soap is unscented. It is free of harsh detergents and additives. All bars are hand poured and cut with care, approximately 6oz each. This listing is for one bar.
Handmade fresh in small batches in the USA using natural and organic ingredients!
Cruelty Free, Paraben Free, NO preservatives or artificial fragrance, SLS free
---
Share this Product
This soap is excellent
This soap is excellent for my face! I have moderate rosacea and this soap is soothing and heals my face. I've tried various very expensive soaps and lotions made to treat rosacea and been supremely disappointed with them. No more! This soap works! I can't tell you how thrilled I am!
Delightful!
This was a new one for me and it's just as delightful as the rest of Puro Co's soaps!
Love love love
By far my favorite soap and I've tried many! Smells delicious and feels just as good!! Can't wait to get my bundle of 12!!! Thank you puro for making such a luscious, yummy soap!
---
More from this collection