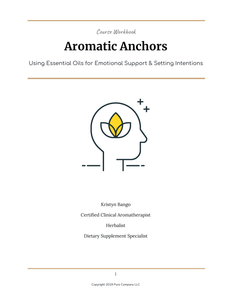 Aromatic Anchors
Regular price
$9.99
Sale price
$139.00
Course Objectives: 
Focus:
This course focuses on how your body processes aromas and how you can use this for emotional health by creating intentional anchors in scent using essential oils and mindfulness practices.
What you'll learn:
What is the olfactory system?
What happens in our body when we breathe in a scent?
How does scent impact our emotional and physiological response? 
How can we use essential oils as a tool for emotional support? 
Body scan exercise
Breathing practices that incorporate essential oils.
Creating and writing intentions and anchoring them in scent. 
The workbook print version of this course is a full-color professionally printed workbook only delivered straight to you.

The online version of this course includes a full-color digital/printable pdf. (100 + pages) workbook, videos, and bonus materials. This option does not include a physical copy of the workbook.

Digital + Print all of the above and a professionally printed copy of the Aromatic Anchors workbook delivered straight to you with no need to print out the workbook yourself. 
Online + Print + Synergistic Healing includes the above with lifetime access to our natural health group Synergistic Healing ( $199 Value ) 
Want all our best resources at your fingertips?
All thing herbs, essential oils, supplements, and natural health!  This group is meant for health advocates and wellness enthusiasts who want to discover ways to incorporate natural remedies into their practices.
As a Certified Clinical Aromatherapist, Dietary Supplement Specialist, and herbalist, I have created this group to empower you on your healing journey. You will learn how to with safe and effective practices provided. This allows us to get laser-focused and use the tools that are the most effective.
Included:
Ebooks - Cooking with Herbs and Essential Oils, CBD - Just the Facts, Cleaning with Essential Oils, Adaptogens,  ++
Guides - Summer Skincare Guide, Essential Oils for Productivity Guide ++
Courses - Herbal Skincare, Aromatic Anchors ++
Early access to new digital products before they are available anywhere else
In this group, I use my background as a Certified Clinical Aromatherapist, Herbalist, and Dietary Supplement Specialist to create educational resources that inspire people to regain their health and make informed decisions using the most current evidence-based scientific research.
---
Share this Product
Great!
Love the lip balm and soap
---
More from this collection