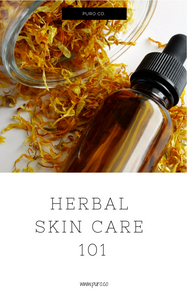 Herbal Skincare 101
Regular price
$59.99
$0.00
In this self-guided course, you will learn all about creating your own natural skin care.  You'll receive all the recipes you need to get started and in-depth information on the individual ingredients used so you can confidently make substitutions to suit your own personal needs.
Why should you make your own products? 
Making your own products allows you to control the quality of the ingredients you use. Using high-quality ingredients not only improves the overall look and appearance of your skin but help to reduce toxic burden on your body by eliminating the artificial preservatives, scents colors and additives in commercial products. Your skin is your largest organ and capable of absorbing the products you use daily good or bad. When you use nourishing skin care you are feeding your skin with healthy nourishing ingredients and generally, these products can be made at a fraction of the cost and with very little time and effort. As you go through this course not only will you learn to make your own products but you will also learn what to look for in products that you decide to purchase either through a store or a small local producer. 
If you're looking to add in nourishing skin treatments, hydrate the skin, reduce the signs of aging, or find a product that works for an inflammatory skin condition you need to learn to make your own healing herbal skin care preparations.
This course is delivered via email you'll get one module along with recipes that compliment what you've learned. 
Each module can be completed at your own pace. 
Week 1 - Introduction to Skin Care
Week 2 - Module 1 Carrier Oils
Week 3 - Module 2 Exfoliants
Week 4 - Module 3 Clays and Masks
Week 5 - Module 4 Essential Oils
Bonus: Additional home and body care recipes
Want all our best resources at your fingertips?
All thing herbs, essential oils, supplements, and natural health!  This group is meant for health advocates and wellness enthusiasts who want to discover ways to incorporate natural remedies into their practices.
As a Certified Clinical Aromatherapist, Dietary Supplement Specialist, and herbalist, I have created this group to empower you on your healing journey. You will learn how to with safe and effective practices provided. This allows us to get laser-focused and use the tools that are the most effective.
Included:
Ebooks - Cooking with Herbs and Essential Oils, CBD - Just the Facts, Cleaning with Essential Oils, Adaptogens,  ++
Guides - Summer Skincare Guide, Essential Oils for Productivity Guide ++
Courses - Herbal Skincare, Aromatic Anchors ++
Early access to new digital products before they are available anywhere else
In this group, I use my background as a Certified Clinical Aromatherapist, Herbalist, and Dietary Supplement Specialist to create educational resources that inspire people to regain their health and make informed decisions using the most current evidence-based scientific research.
---
Share this Product
---
More from this collection