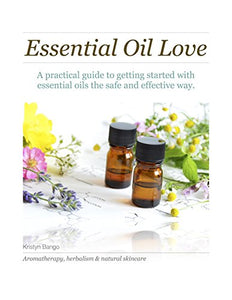 Essential Oil Love Ebook
Regular price
$9.99
$0.00
Essential Oil Love is designed to help you get started using essential oils in your home. It includes easy to follow recipes and tips for using your essential oils. You will also find safety guide lines, terms to know and proper dilutions for different situations. Along with a printable dilution chart for easy reference when creating your own blends. If you're new to essential oils or concerned about oil safety in the home, this guide will have you using them confidently in no time!
Want all our best resources at your fingertips?
All thing herbs, essential oils, supplements, and natural health!  This group is meant for health advocates and wellness enthusiasts who want to discover ways to incorporate natural remedies into their practices.
As a Certified Clinical Aromatherapist, Dietary Supplement Specialist, and herbalist, I have created this group to empower you on your healing journey. You will learn how to with safe and effective practices provided. This allows us to get laser-focused and use the tools that are the most effective.
Included:
Ebooks - Cooking with Herbs and Essential Oils, CBD - Just the Facts, Cleaning with Essential Oils, Adaptogens,  ++
Guides - Summer Skincare Guide, Essential Oils for Productivity Guide ++
Courses - Herbal Skincare, Aromatic Anchors ++
Early access to new digital products before they are available anywhere else
In this group, I use my background as a Certified Clinical Aromatherapist, Herbalist, and Dietary Supplement Specialist to create educational resources that inspire people to regain their health and make informed decisions using the most current evidence-based scientific research.
---
Share this Product
---
More from this collection