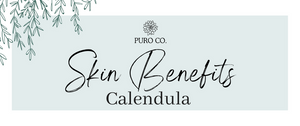 • Kristyn Bango • calendula • dry skin • herb • herbal remedies • sensitive skin • skin • skin care • skincare
Skincare products that contain botanicals, minerals, and ingredients that come straight from nature can nourish your skin in ways that no other products can. That's why Calendula is a great herb to add to your herbal medicine chest. 
---
• Kristyn Bango • anti inflammatory • balm • calendula • flowers • herbal remedies • herbs • home remdies • inflammation • infusion • marigold • natural • natural health • precautions • puro co • relief • remedies • safety • usage

If you've followed us or used any of our products, you can probably tell that I love Calendula. It is one of my favorite herbs that I use the most in my day to day life and in the products I make for Puro Co. I thought that it's important to share as much information about this amazing herb as I can. Below you'll find some reasons why it's an essential herb for everyone trying to lead a natural lifestyle.